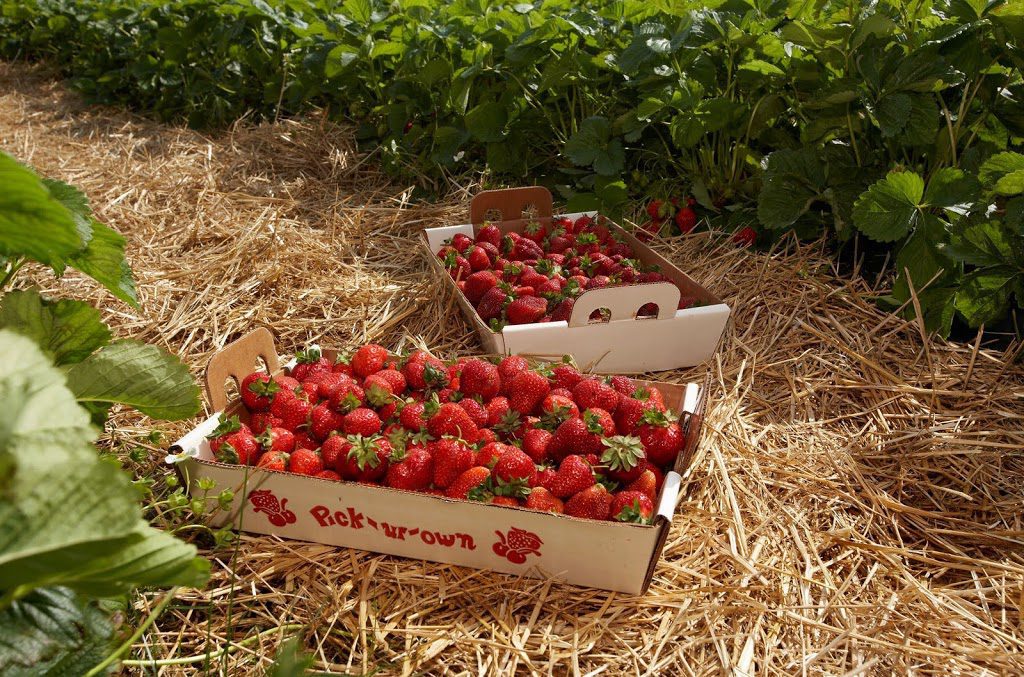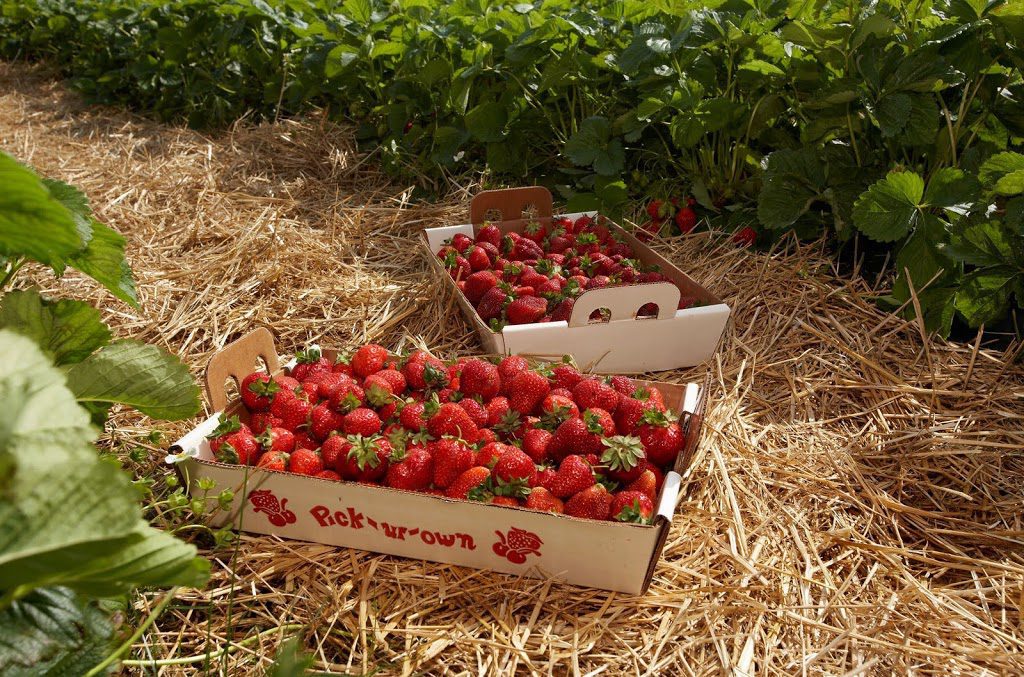 There is nothing like a big, red and juicy strawberry fresh from the field. We have been growing berries at the Belleville farm for over 50 years. We usually expect to harvest our strawberries in mid-May, but the unpredictable weather is always the final decision maker. This year is no exception, as the early spring temperatures allowed our berries to ripen a week ahead of schedule. Sunlight and temperature also play a vital role in the day to day ripening of berries, so we always recommend checking our Harvest Hotline the day you are planning to visit Eckert's.
Not only do these attractive and sweet berries make excellent additions to a variety of dishes and desserts, but they are also very nutritious. Ounce for ounce, strawberries have more Vitamin C than than any type of citrus fruit. Eight strawberries will provide 140% of the recommended daily intake of Vitamin C for kids. One cup of strawberries yields 94.12 mg of Vitamin C, 44.82 mg of Potassium, 23.24 mg of Calcium, and contains only 50 calories!
Look for bright red strawberries, with the green caps still in place. When these caps are removed, chemicals are released that deplete Vitamin C. Make sure mold is not present on any of the strawberries. Once one berry grows mold, the other berries have been exposed to invisible spores, that will eventually lead to the contamination of the whole container.
Use strawberries as soon as possible after they are purchased. It is important to loosely cover unwashed berries with plastic wrap. Make sure to keep strawberries in the refrigerator. When you are ready to use the strawberries, rinse them in a colander. Do not let the berries soak, for soaking minimizes both color and sweetness.
With all this excitement about berries, you probably think we've forgotten all about Mother's Day this coming Sunday, but our moms taught us better than that. In honor of the special day, we asked some of our moms for their favorite strawberry dessert recipes so you can surprise you're mom with a new spring dessert this Sunday!
Strawberry Napoleons
Submitted by Lauie Schloesser
1 package instant vanilla pudding
1 cup cold 2% milk
1 1/2 cups whipped topping
1/2 package frozen puff pastry, thawed
1 pint fresh Eckert strawberries, thinly sliced
1/4 cup confectioners sugar
Preheat oven to 400 degrees Fahrenheit. Combine pudding mix and cold milk; fold in whipped topping. Refrigerate until ready to use. Unfold pastry on a cool, lightly floured surface. Cut into 3 strips along fold marks, then cut each strip into four equal pieces. Place 2 inches apart on a baking sheet. Bake for 15 minutes in the preheated oven, or until golden brown. Remove from baking sheet and cool. Split pastries into two layers. Spread 8 bottom layers with dollops of the pudding mixture. Top each with a layer of strawberries, a small mound of pudding, and another pastry layer. Spread with remaining pudding mixture and strawberries and top with remaining pastry layers. Sprinkle with confectioners sugar.
Facts and Statistics provided by the University of Illinois Extension