The sweet potato is one of my favorite foods—hands down. I could gush on and on about this seemingly simple vegetable that, more fittingly, is a multifaceted

 

superstar of the food world, like how it teems with flavor, and how it is so wildly dense with nutrition, and how it's orange hue appeals to the senses.
A few years ago, I decided to add sweet potatoes to a Romaine lettuce salad in our Fall Harvest class. Sure enough, it was a hit! We then tweaked the recipe—using sweet potato straws and adding dried cranberries—and proudly placed it on the Eckert's Country Restaurant Winter Specials menu.
We are so excited about sweet potatoes here at Eckert's, we are now selling our homegrown crop in the Country Store. You'll want to come by, pick some up and make this wonderful salad for your Thanksgiving festivities.
Salad with Roasted Sweet Potatoes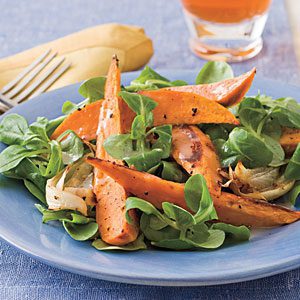 2 medium sweet potatoes, peeled and cut into 2-inch-long matchsticks
3 Tbs plus ½ tsp. olive oil
Romaine or your favorite lettuce
Preheat oven to 450 degrees. On a rimmed, oiled baking sheet, toss sweet potatoes with 1 Tbs olive oil; season with salt and pepper. Roast on upper rack until tender (20 to 30 minutes), tossing halfway through. On another rimmed baking sheet, toss walnuts with cayenne and ½ tsp oil. Bake on lower rack until golden (3 minutes).
In a medium bowl, whisk together lemon juice, honey and remaining 2 Tbs. olive oil; season with salt and pepper. Add lettuce and toss to combine. Serve topped with sweet potatoes, walnuts and feta.