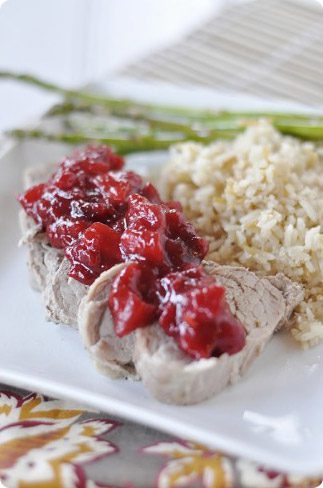 I hope all the moms out there enjoyed Mother's Day as much as I did!  My husband treated me to one of my most favorite childhood dishes made with fresh picked strawberries.  Grandma B used to make this dish for me on special occasions when I was young and I think she would be very proud of my husbands attempt at it.   
Pork Tenderloin with Spicy Strawberry Sauce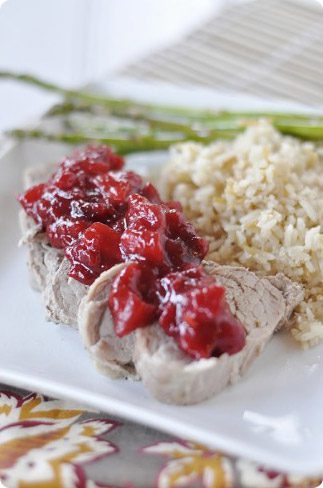 Strawberry Sauce Ingredients:
2 pounds fresh strawberries, coarsely chopped
3 tablespoons brown sugar
4 tablespoons lemon juice
Directions:
Combine the strawberries, brown sugar and lemon juice in a large saucepan and bring to a simmer over medium-low heat, until sugar dissolves. Partially cover with a lid and simmer, stirring occasionally, until the strawberries are softened and release their juices, about 10 minutes. Pour strawberries into a blender and blend until smooth.
Dish Ingredients:
4 pork tenderloins
2 tablespoon olive oil
1 small yellow onion, finely chopped
2 garlic cloves, finely chopped
1 tablespoon Worcestershire
Pinch of nutmeg and crushed red pepper
Strawberry Sauce
Directions:
Heat 1 tablespoon olive oil in a medium skillet and brown tenderloins on all sides for a total of 5-7 minutes. Transfer tenderloins to 350F oven and bake for 20 minutes or until reaches 150F internal temperature. In a medium, heavy sauce pan, add 1 tablespoon olive oil and the onion and garlic and cook for 1 minute. Add Worcestershire sauce, nutmeg, red pepper flakes, and strawberry sauce and simmer until the sauce starts to thicken, about 5 minutes. Slice the pork and serve with the sauce.