Does anyone else tear hundreds of recipes out of magazines throughout the year? I have the greatest intentions of making them ALL but I admittedly fall short of my culinary goal. On a day without scheduled evening activities, I dig into my collection of jagged recipe pages and select something that catches my fancy. I try to select the recipe before I leave the house so I can make sure to pick up the required ingredients.   
This recipe was inspired by a Cooking Light issue from months ago. It was listed as a 30 minute meal and it took me a bit longer but it was worth every extra minute spent. The sauce was creamy and flavorful, the pork was tender and I will definitely make it again. I changed a few things in the original recipe to make it a little more kid-friendly and to create a fuller-flavored sauce.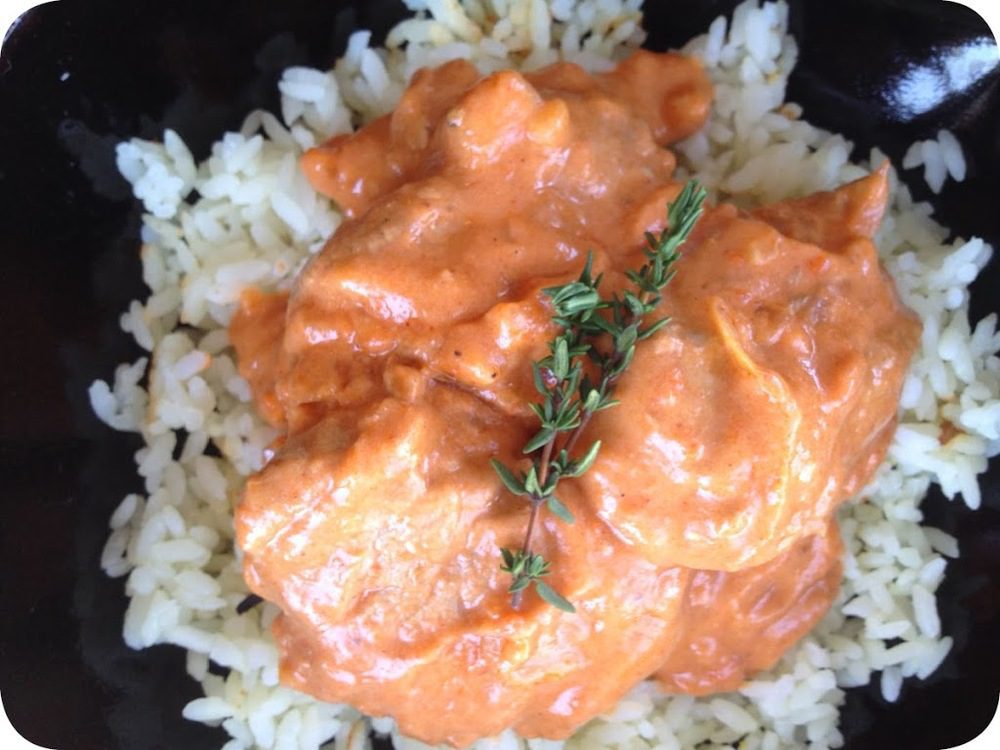 A stainless steel skillet is key to allowing the meat to brown long enough to leave browned bits on the pan. (If you want to know why, Google "Maillard Reaction.") In my usual hurried cooking manor, I rush the browning steps and in turn sacrifice flavor. Luckily, my patient husband was standing over my shoulder encouraging me to allow the browning steps "to go a little longer" on the pork and onions. Thanks Honey!
1/2 tsp salt, divided 1/2 tsp freshly ground pepper, divided 4 Tbs. Olive oil, divided 1 cup finely diced onions 3 large cloves garlic, minced 3 Tbs. all-purpose flour 3 Tbs. tomato paste 1 tsp. paprika  3/4 cup dry white wine 1 1/2 cup chicken stock 2 Tbs apple cider vinegar 3 Tbs light or regular sour cream ( I used Mexican cream. Yum!) 4 cups cooked rice or noodles Fresh chopped parsley or chives, (optional)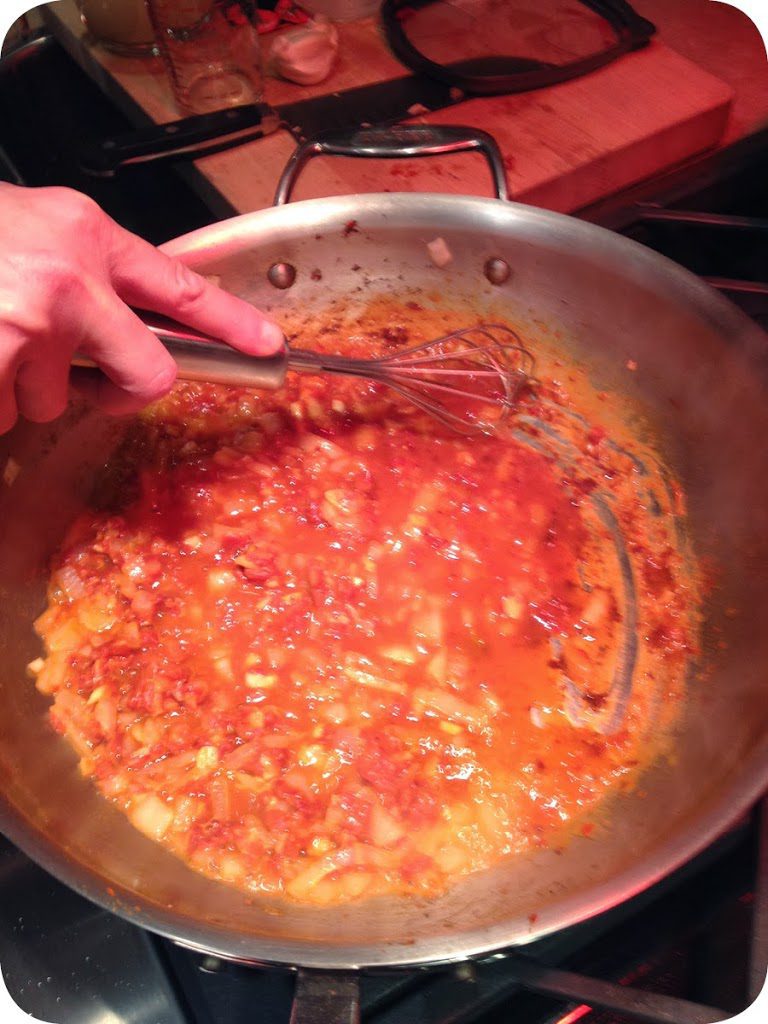 Sprinkle pork with 1/4 teaspoon of salt and pepper. Heat a large stainless steel skillet over medium-high heat. Add 2 tablespoons oil and swirl to coat. Add pork and cook 3-4 minutes per side. Turn meat with tongs only when it pulls easily away from the pan, resisting the urge to tug it free.
Once browned, remove pork from pan and set aside.
Return skillet to medium heat and add remaining 2 tablespoons of oil. Add onion, garlic and remaining salt and pepper to skillet and sauté 4 more minutes. Add flour, tomato paste and paprika, sauté stirring constantly for 1 to 3 minutes or until the mixture is well-browned.
Add wine to deglaze the pan and cook 2 minutes while whisking the browned bits loose from the bottom of the pan. Add stock and vinegar and bring sauce to a boil. Return pork pieces to the skillet and simmer for 5 minutes or until pork reaches an internal temperature of 145 degrees. Remove pan from heat and stir in sour cream. Serve pork over a bed of rice or noodles if desired. Top with fresh parsley or chives if using. Makes 6 servings. 
Eat Well this Winter, Angie