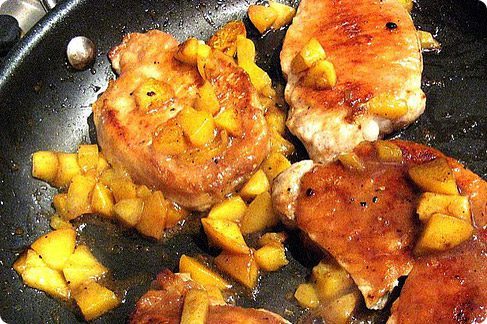 It is still hard to believe that peach season is already here.  This past weekend I decided to make one of my favorite peach recipes that Grandma B taught me.  It is so simple and delicious- even the kids like it.  I am also excited to hear that from now on the peaches in store will just keep getting larger every week and we expect to have the clingstone variety Garnet Beauty in store by this weekend -YUM!
Peachy Pork Chops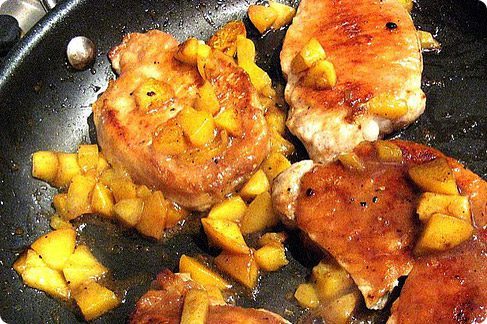 Ingredients
1 tablespoon vegetable oil
4 boneless pork chops, 1-in think
3/4 teaspoon salt
1/2 teaspoon pepper
1/2 cup chicken broth
1/2 cup Eckert's peach preserves
2 cups Eckert's peaches; peeled, pitted and sliced
1/4 teaspoon ground ginger
1 tablespoon honey mustard
1 tablespoon cider vinegar
Directions
Heat the oil in a large saute pan over medium heat.  Season the pork chops with 1/2 teaspoon salt and 1/4 teaspoon pepper.  Add the pork chops in a single layer to the saute pan and brown for two minutes per side.  Remove the pork chops from the pan and set aside.  Add the broth and cook over high heat, scraping up the browned bits from the pan. Reduce the heat to low.  Stir together the peach jam, two cups peaches, ginger, honey mustard, vinegar, remaining 1/4 teaspoon salt, and 1/4 teaspoon pepper in a bowl.  Add the combined peach mixture into the pan.  Return the pork to the pan and baste with the peach mixture.  Cover the pan and simmer for 15 minutes.