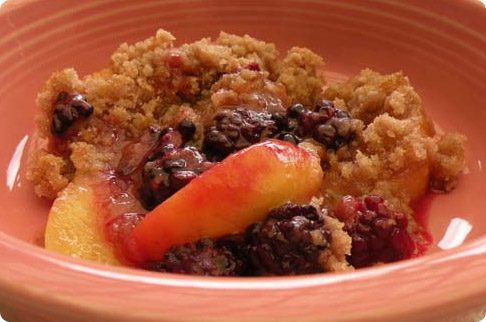 This past weekend my family and I picked 3 containers FULL of deliciously sweet blackberries at the Belleville Farm.  I was pleasantly surprised to see how many beautiful ripe berries were available to pick.   There were so many that we could not resist eating a few straight off the vine – YUM!  We also purchased some superb Redhaven peaches from the store so I could make a tasty peach-blackberry crisp.  This is one of my kids favorite peach and blackberry desserts.  They were so excited that they did not have to wait another month to enjoy this recipe and for both crops to ripen at the same time.  We are so excited to go back to the Belleville Farm again this Saturday to pick both blackberries and peaches fresh from the fields!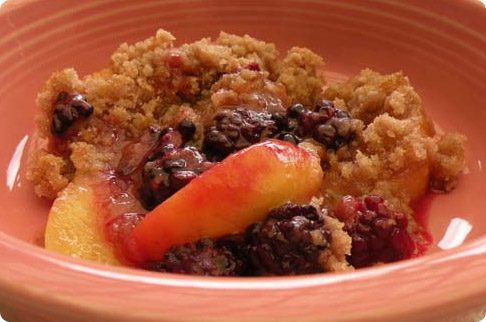 Ingredients
Filling:
2 large eggs
1 cup creme fraiche or sour cream
1 teaspoon vanilla extract
1 tablespoon plus 1/2 cup all purpose flour (separated)
3 cups blackberries
4 medium peaches; pealed, pitted and sliced
1/4 cup sugar
Eckert's vanilla custard
Topping:
1 cup all purpose flour
6 tablespoon (packed) golden brown sugar
1 teaspoon finely grated lemon peel
1/2 teaspoon salt
1/2 cup (1 stick) unsalted butter, melted
1 teaspoon vanilla extract
Directions
Filling:
Whisk eggs in a large bowl to blend.  Whisk in creme fraiche and vanilla.  Add 1 tablespoon flour; whisk to blend.  *Cover and chill.
Topping:
Whisk flour, golden brown sugar, lemon peel, and salt in medium bowl to blend.  Add melted butter and vanilla; stir until evenly moistened but crumbly.  *Let stand at room temperature.
Crisp:
Pre-heat oven to 375F.  Butter 8×10 inch oval ceramic dish or 9×9 inch glass dish.  Place berries and peaches in large bowl.  Sprinkle remaining 1/2 cup flour and sugar over; toss to coat.  Transfer to prepared dish.  Pour filling mixture evenly over fruit.  Using fingers, crumble topping over filling and fruit, distributing evenly.  Bake crisp until filling is set and topping is golden brown, about 55 minutes.  Let cool at least 10 minutes and up to 1 hour before serving.  Spoon crisp in bowls and serve with Eckert's vanilla custard.