Thank you Show Me St. Louis! I had a ball at the station last Thursday making Herb Butter with Host Julie. Cooking on Show-Me is always a pleasure. J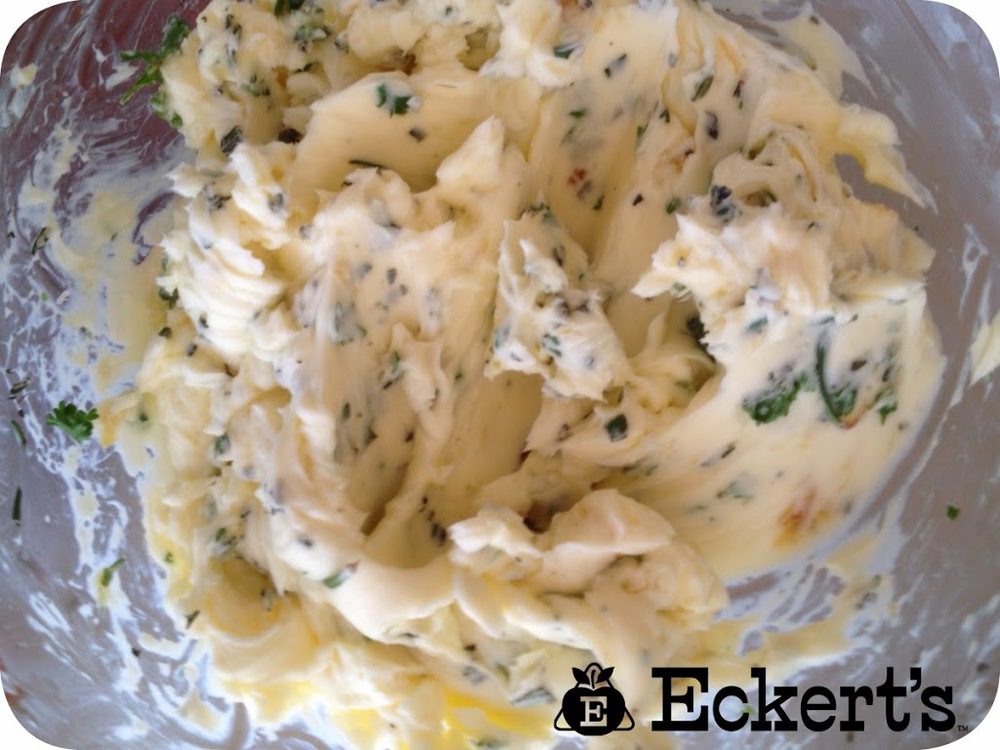 I made Herb Butter during the demo and Julie loved it on Eckert's Bakery Bread. Luckily, I had a extra Herb Butter to take home after the demo so I decided to use it on chicken last night. The results were delicious and kid-approved!! (Really! The kids didn't even mind the little flecks of "green stuff."") I simply melted the herb butter in the microwave for 20 seconds and brushed it on chicken pieces from Eckert's Butcher Shop. I hope you will give both of the recipes a try.
Thank goodness fresh herbs are finally here in our greenhouse at Eckert's. I have started to grow a few on my windowsill and as a result I am feeling like I have a little more optimism about spring actually arriving….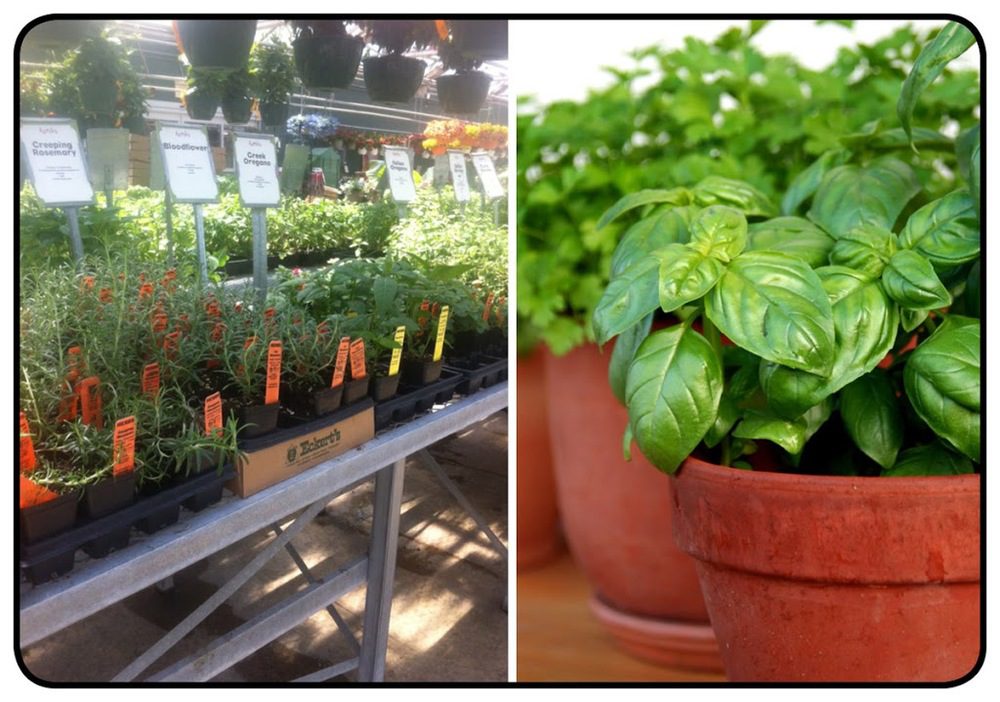 Eat well this winter-like spring, Angie
Eckert's Garlic Herb Butter – As Featured on Show Me St. Louis
1 head garlic 1 Tbs. olive oil 3 Tbs. fresh thyme 3 Tbs. fresh rosemary 3 Tbs. fresh sage 3 Tbs. fresh parsley 1 cup unsalted butter, room temperature
With a knife, trim the papery tip off the head of the garlic to expose the white tips of the cloves. Leave cloves connected to the root end. Place bulb of cloves on aluminum foil. Drizzle with oil and wrap with foil. Bake 30-45 minutes or until cloves are soft when pressed. Remove foil and allow garlic to cool.
Extract the soft garlic from the skins and discard skins.
In a small bowl, combine garlic, butter and herbs until well-combined. If desired, shape butter into a log and wrap with wax paper. Store in refrigerator up to 1 week or freeze for up to 3 months.
3 ½ pounds bone-in, skin-on chicken pieces (2 split breasts cut crosswise, 2 drumsticks, and 2 thighs)
Rinse chicken pieces and pat chicken dry with paper towels. Lightly season with salt and pepper. In a oven-proof baking pan, place chicken pieces, skin side up; arranging breast pieces in center and leg and thigh pieces around the outside of the baking pan.
Brush chicken with herb butter. (If butter is cold, warm a few seconds in microwave). Roast until breasts register 160-degrees and legs and thighs register 175-degrees about 35 to 40 minutes. Rotate the baking pan half-way through the roasting.
Transfer chicken to a warm serving platter. Tent loosely with aluminum foil and let rest 5 to 10 minutes.
We still have a few spots available in our upcoming herb classes. We are offering a herb class this Saturday, March 29th and another herb class on April 12th. Click here to view Eckert's Adult Cooking Classes.