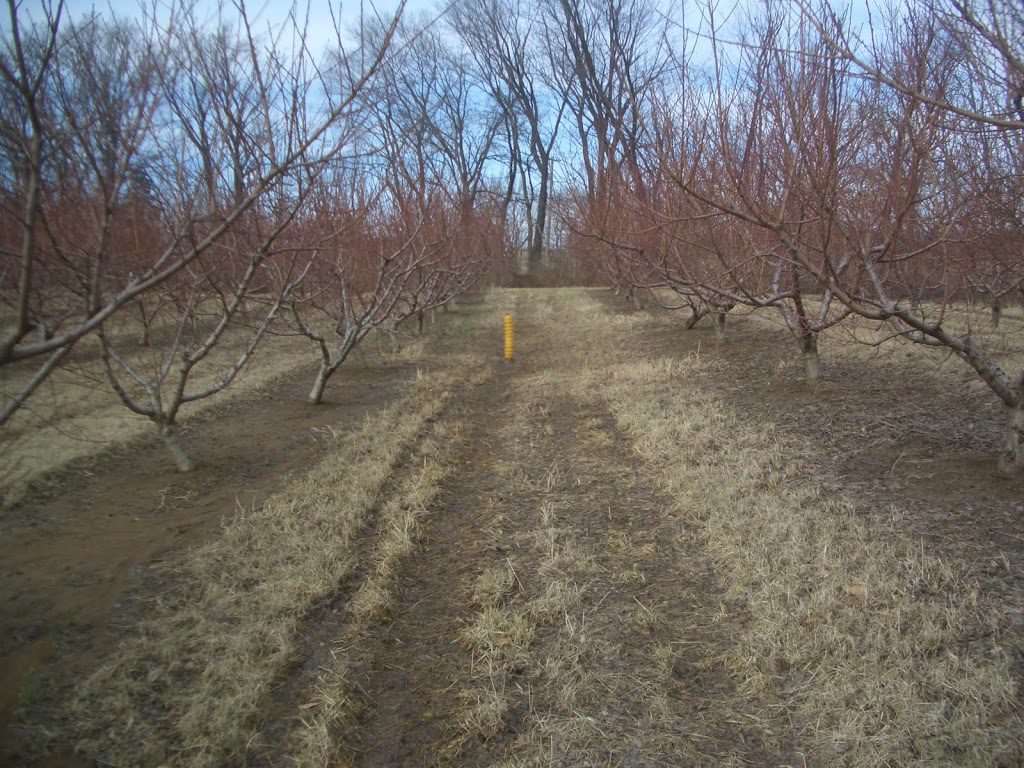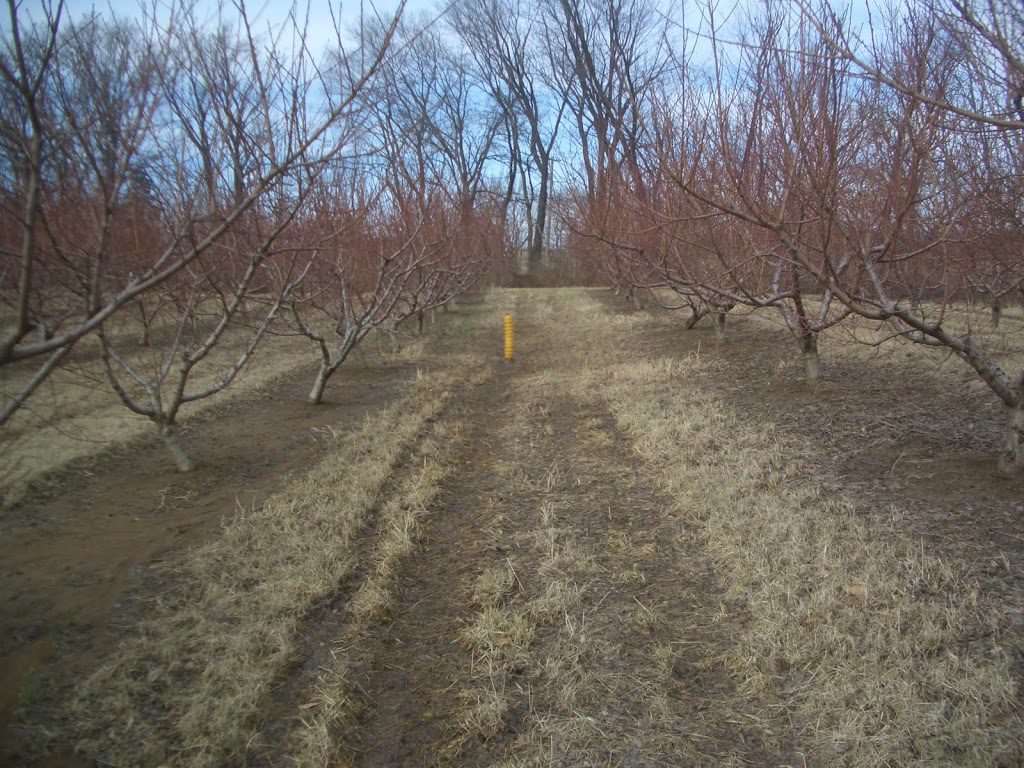 If you go out to the orchard this time a year, it might appear that the fruit trees are dead, but actually they are dormant. Fruit trees become dormant after harvest. This is the time when the trees "hibernate," saving their energy for the fruit they will produce later in the year.
Contrary to popular belief, this is a busy time for the farm because of the task of dormant pruning. Dormant pruning takes place in the latter part of winter, since new growth on the tree has yet to occur. The trees that bloom latest in the year are the trees that will be pruned first. Eckert's grows peach and apple trees, and since apple trees bloom later than peach trees, they are the first to be pruned.
A newly planted fruit tree must be pruned and trained to enhance its fruit production. The way a fruit tree is shaped has a direct impact on the amount of fruit it will yield, as well as the fruits' size and ripening. Once a fruit tree matures, it must continue to be pruned to maintain the size and shape of the tree, and to thin the tree of any spurs to avoid overcrowding, which can lead to small, puny fruit.
It is from this task of dormant pruning that we get our applewood we use for smoking fresh meats. Our deli offers several items that are smoked on site including: baby back ribs, turkey legs, pulled pork, pulled chicken and whole turkeys.
While on the subject of apples, check out this recipe for a quick and delicious meal. This recipe is a long time Eckert family favorite and was a best seller in the Restaurant this past fall. Plus, receive a FREE pound of applewurst on Friday, when you purchase a pound at regular price.
Applewurst Sweet Potato Skillet
1 lb applewurst (4 links)
2 large sweet potatoes, peeled and cubed
2 Fuji apples, peeled and sliced
1 medium onion, sliced
1 green pepper
2 Tbsp. olive oil
Cook applewurst in skillet over medium heat until cooked through – about 15 minutes, turning once after 7 minutes. Remove from skillet. Add oil and green pepper. Saute for 5 minutes, add onion and continue cooking until onions and peppers are soft. Remove from skillet. Add sweet potatoes and apples. Turn 1 or 2 times. Cover with lid and cook for 10 minutes on low heat. Slice applewurst and add to skillet. Then add pepper and onions and toss all together. Warm through and serve.
Monday, Feb. 1st – Military Mondays
Anyone with a military ID will receive 10% off their entire purchase or restaurant ticket. We would like to thank our service members and their families. We are forever indebted to you for your sacrifices.
Tuesday, Feb. 2nd – FREE Ribs
Receive a FREE rack of applewood smoked baby back ribs, when you purchase a rack at regular price. Preorders are appreciated. (618) 233-0513 x3
Wednesday, Feb. 3rd – $1 Dessert in the Country Restaurant
BOGO Monster Muffins
Thursday, Feb. 4th – Kids Eat FREE
Kids eat FREE every Thursday in February, with the purchase of an adult entree.
Friday, Feb. 5th – FREE Pound of Applewurst
Receive a FREE pound of Eckert's famous Applwurst, when you purchase a pound at regular price.
Saturday, Feb. 6th & Sunday, Feb. 7th – 25% OFF Eckert's Applewood Smoked Turkey Legs
Stock up on our delicious applewood smoked turkey legs, guaranteed to be a touchdown at your Superbowl party!