Citrus season is still in full swing here at Eckert's. This winter especially, I have been enjoying using oranges and grapefruits in seasonal salads and entrees. This recipe for Maple Orange Chicken has become a new citrus season favorite of mine! We featured this recipe in a recent "Lunch and Learn" class in our cooking classroom, where it received rave reviews from our guests. "Moist," "delicious" and "easy to prepare" were the most common descriptions!
We hold a "Lunch and Learn" Cooking Class once a month in our classroom at the Belleville Country Store. This one-hour cooking class has become a popular event for friends who meet for lunch to enjoy fresh, seasonal recipes. We would love for you to join us at one of these classes, which are held on the third Wednesday of every month from 12 to 1 p.m. The cost is only $15 and includes the class and lunch (tax and tip are included).
 I hope you enjoy Maple Orange Chicken as much as we have here at Eckert's.
Maple Orange Chicken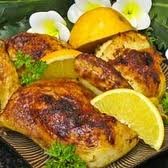 1 whole chicken, about 3-1/2 pounds, cut into 4 quarters
1 fresh orange (you will need both the zest and 1/4 cup juice)
1/4 cup Eckert's maple syrup
1 tsp. Kosher salt, or to taste
1/2 tsp. dried thyme or rosemary
Freshly ground black pepper to taste
Preheat oven to 400 degrees. Line a 9- x 13-inch baking pan with foil. Place a baking rack in the pan, then put the chicken quarters, skin-side-down, on the prepared pan. Remove the zest from the orange with a grater, then juice the orange. Whisk together orange zest, 1/4 cup orange juice, butter, maple syrup, onion powder, salt, thyme or rosemary and pepper. Brush 1/4 of the orange

mixture

over the chicken pieces. Turn chicken skin-side-up and brush with 1/4 of the orange mixture. Roast, uncovered, for 20-25 minutes. Remove from oven and brush with remaining 1/2 of orange mixture. Return to oven and roast an additional 20-25 minutes. Remove from oven, tent with foil, and let rest for 10 minutes before serving. Makes 4 servings.