Join us for a delicious breakfast with Santa! Children can tell Santa their Christmas wishes, and Santa will have a special gift for each child. Breakfast will be served from 8am until noon, and the breakfast includes: scrambled eggs, crisp bacon, biscuits and homemade sausage gravy. After breakfast the fun doesn't end!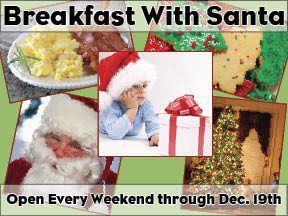 You can head on over to our Country Store and Garden Center where we will capture the moment in a photo of your child with Santa. The children also get to ice and decorate their very own Christmas cookie for dessert! our holiday story hour coincides with the Breakfast with Santa activities, so your children can enjoy a free Holiday Story. Your children are sure to be entertained during this time, they will hear the story of the gingerbread man, and when the story is over, each child can make a gingerbread craft. this is a treat that is fun for kids of all ages! our Holiday Stories will be told at 9am and 11am in the Garden Center.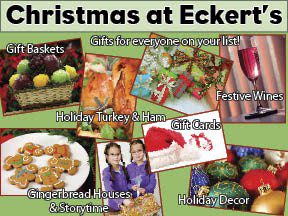 We will also have Gingerbread Workshops available from 10am until 4pm. For those who have always longed to build a gingerbread house here at Eckert's, we will even take care of the mess! It doesn't stop there; Eckert's has much more to offer during the holiday season! From our magical reindeer food to Eckert's giftcards, we have something for everyone on your list. Holiday turkeys and hams, Christmas decor, festive wines, cooking and wine classes, gift baskets, and so much more!