What do Dr. Seuss and a recipe blog have in common? Green eggs and ham, of course! And since St. Patrick's Day is upon us, that means my 7-year-old daughter and I will be making Green Eggs & Ham in the next day or two. This recipe is a favorite of ours because before we even start cooking, we sit down together and read the Dr. Seuss classic, Green Eggs and Ham. We both love Dr. Seuss books! We also enjoy being in the kitchen together, whipping up tried-and-true as well new concoctions. We will be having a lot of fun this weekend!
Green Eggs & Ham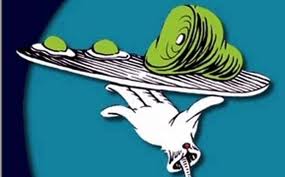 1-2 drops green food coloring
Preheat oven to 350 degrees. Put 1 slice of ham in 4 individual muffin cups. In a bowl, crack eggs and stir in milk, salt and pepper. Add food coloring and stir again. Pour equal amounts into the 4 muffin cups. Bake at 350 degrees for 15 to 20 minutes.