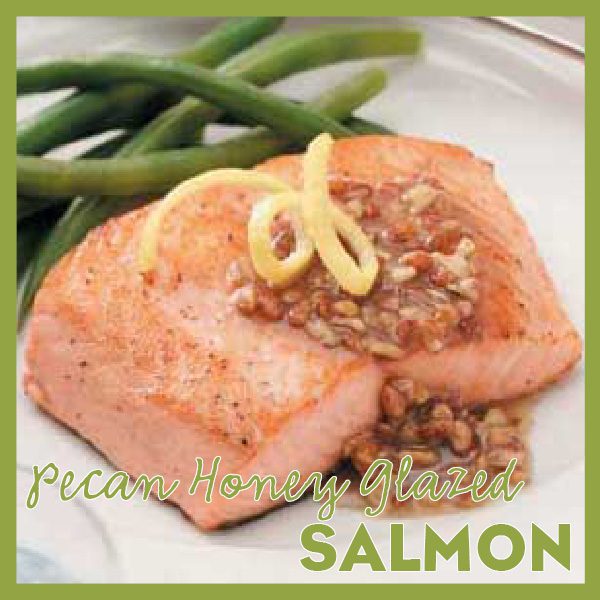 About Dixon Fisheries
Eckert's deli department has proudly partnered with East Peoria, Illinois'
Dixon Fisheries
to offer our customers the most premium frozen seafood. Dixon Fisheries, also a 100-year family business, specializes in the finest seafood in the midwest. Dixon follows the
U.S. Department of Commerce
inspection program for seafood and implements up-to-date sanitation practices in a modern state-of-the-art facility. All of Dixon's seafood has a clean fresh water or ocean smell, bright colored flesh and smooth, firm surfaces.
If you are new to preparing seafood, use any of the following methods to determine if your seafood dish is fully cooked.
Temeperature – internal temperature on an oven thermometer of 145 degrees.
Texture – fish flakes easily with a fork
Color – fish is opaque in color, rather than translucent
One of the most common questions from customers is which fish is mild in taste or "not fishy?" For a mild tasting seafood, we recommend haddock, sole, scallops, cod, orange roughy, tilapia and halibut. To add flavor to your dish, we suggest using lemon pepper, dill, lime, thyme or garlic.
Grilled seafood per 3 oz. serving offers some healthy food choices, rich in Omega-3 fatty acids and averaging about 90-150 calories with 1-4 grams of total fat. Seafood ranges from 25-100 grams of cholesterol per serving.
Jim Dixon, president of Dixon Fisheries, states "we support renewable resources that are caught and farmed in a responible manner." Sustainable fisheries avoid overfishing and work toward economically viable fishing practices. This conserves the earth's natural resources and is part of the "going green" trend.
With Lent just around the corner, Eckert's will be carrying various frozen seafood items including orange roughy, Atlantic salmon steaks, sea scallops, tilapia filets, tuna steaks, cod loins and peeled and deveined black tiger shrimp. All frozen seafood will be 40% off on Friday, February 19th and 26th! In addition, Dixon supplies Eckert's with seafood spreads and dips, popular as healthy and tasty appetizers or snacks. Some customer favorites include Bacon Ranch Crap Dip, Cheesy Crab Spread, Shrimp Dip, and Crab Spinach Dip. These recipes use only real seafood, never imitation.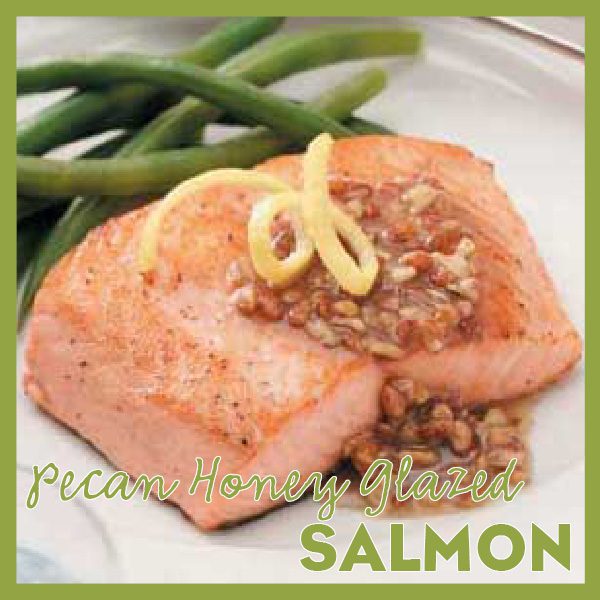 Pecan Honey Glazed Salmon
1 cup pecan halves or pieces
1 cup honey
3/4 cup butter
1/4 cup vegetable oil
4 each (6 oz) salmon fillets
Salt to taste
Freshly ground pepper to taste
Preheat oven to 350 degrees Fahrenheit. Spread pecans in a single layer on a baking sheet. Bake until brown and crisp, about 5 minutes, stirring 2 or 3 times to toast uniformly. Cool to room temperature, and chop coarsely. In a small sauce pan over medium heat, combine honey with half of the butter. Stir in toasted pecans. Cook until pecans are coated in a glassy glaze, about 7 to 10 minutes. Remove from heat and keep warm. In a large sauce pan over high heat, melt remaining butter with oil. Season fish with salt and pepper to taste. Saute until fillets are firm to the touch, about 4 to 5 minutes per side. Transfer to serving plate and spoon glaze over top. Makes 4 servings.