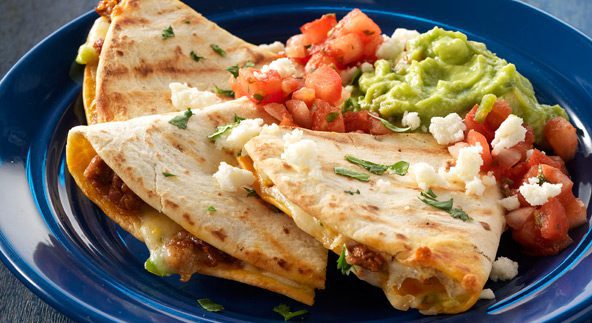 I really like Super Bowl parties—not because I am a die-hard football fan (I often have to ask my husband or check online to see who's playing)—but because they break up the bleakness of winter. Super Bowl is perfectly timed to get back together with friends and family after a much-needed break to recover from the Christmas and New Year's festivities. Whether I am hosting a party or bringing a dish to a friend's house, I am always looking for something new to whip up. This year I will be making Chorizo Quesadillas. Chorizo is the name of the sausage—a seasoned pork sausage—in the recipe. Eckert's chorizo is freshly ground and seasoned with paprika, red pepper and garlic, and it's very tasty and ideal for quesadillas. To make this recipe even better, serve it with Eckert's fresh, homemade guacamole. It's so good! Enjoy the game!
Chorizo Quesadillas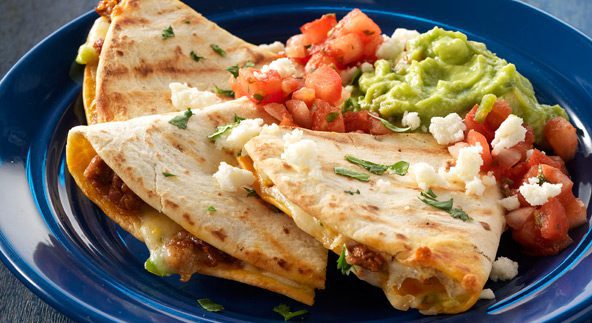 ½ lb Eckert's fresh chorizo sausage
10 flour or corn tortillas (6-inch)
2 scallions, thinly sliced
2 cups shredded Mexican blend cheese (one 8-oz package)
Eckert's guacamole for serving
Remove sausage from the casing and sauté until fully cooked, allow to cool a few minutes. Place 5 tortillas on a work surface. Dividing evenly, scatter chorizo, bell pepper, and scallions over each, leaving ¼-inch border all around. Sprinkle cheese over each and top with remaining tortillas. Press lightly to seal. Place 1 quesadilla between 2 paper towels, top with another quesadilla and another paper towel. Microwave the 2 stacked quesadillas on high for 2 minutes or until cheese has melted. Carefully unstack quesadillas (they will be very hot), and remove paper towels. Place on a platter. Repeat with remaining quesadillas. Cut each quesadilla into 4 wedges and serve with guacamole.