This week's temperatures have me craving basil like crazy- is anyone else with me? My basil plants are happily enjoying the warm, dry days from their playful patio pots. Since it is early in the growing season, I don't have quite enough leaf production to make pesto from scratch which lead me to a recipe short cut. I used Cucino Vina's Pesto in a jar or as I call it "presto pesto" to satisfy my basil craving!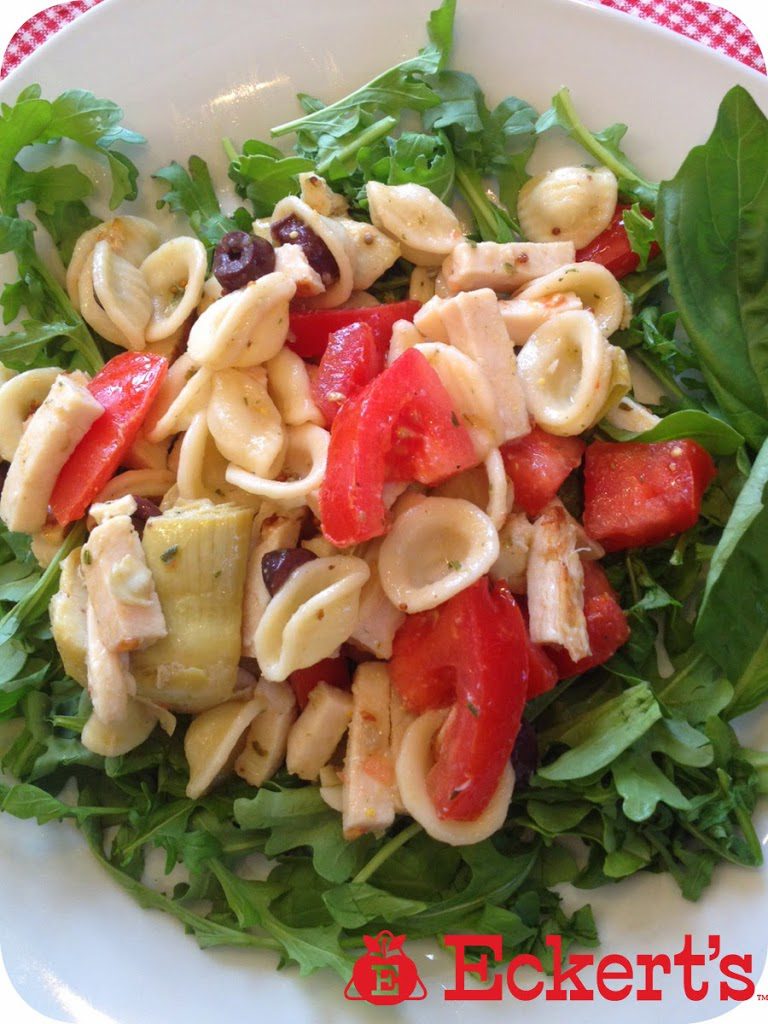 The pesto vinaigrette only calls for a tablespoon of pesto yet it adds an unbelievable amount of flavor to the salad. I have included the recipe for homemade pesto in hopes of inspiring you to plant lots of basil this spring. By the way, now is the perfect time to plant basil and we have sweet, cinnamon and thai basil plants available in our greenhouse in Belleville.
Give this refreshing and flavorsome salad a try if you want to get an early glimpse of summer flavor!
¼ cup extra-virgin olive oil
1 Tbs. pesto (see recipe on p. 26)
1 tsp. whole-grain Dijon mustard
¼ tsp. ground black pepper
3 cups chopped cooked chicken
1 cup cored and chopped tomato
½ cup chopped black olives
½ cup chopped artichoke hearts
4 slices Eckert's Hummingbird bread or 4 lettuce leaves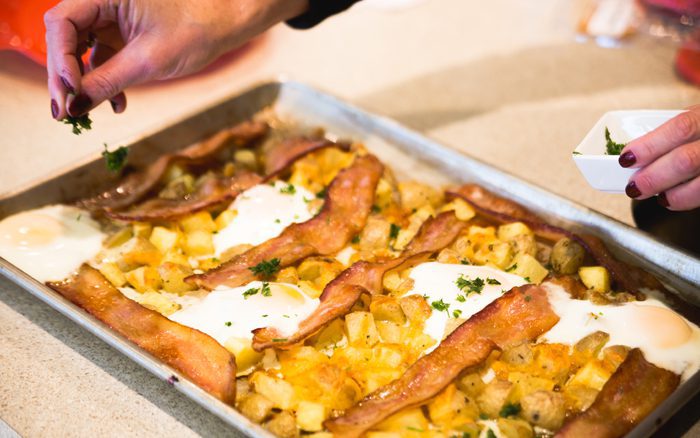 To prepare pesto vinaigrette: In a small bowl, whisk together vinegar, oil, pesto, lemon juice, mustard, salt, and pepper. Cover and chill.
To prepare salad: In a medium bowl, combine chicken, tomato, olives, artichokes and walnuts. Add the Pesto Vinaigrette, tossing gently to coat. Serve immediately open face on bread or on top of a lettuce leaf. Makes 4 servings.
Kosher salt and ground black pepper
¼ cup toasted pine nuts or walnuts
3 cups packed, fresh basil leaves
⅔ cup extra virgin olive oil, divided
½ cup freshly grated Parmesan cheese
On a cutting board, sprinkle ¼ teaspoon salt over garlic and roughly chop. Using the flat side of a knife, crush garlic mixture into a thick paste. Add paste to a food processor with nuts, basil and 1 tablespoon olive oil. Pulse until ingredients are finely chopped. With machine running, add remaining olive oil in a slow steady stream. Add Parmesan and pulse to combine. Season with salt and pepper. Makes about 1 cup.