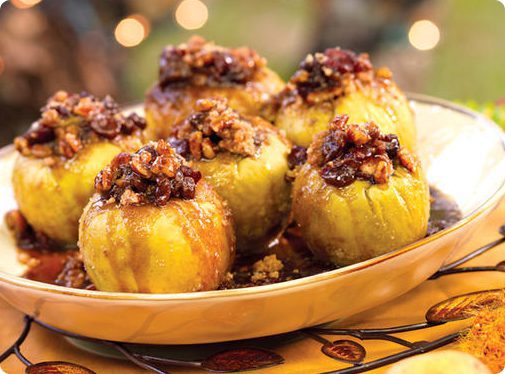 Have you heard?  Jonathan apples are ripe and ready for pickin'.  This is one of my favorite baking apples and with the cooler temperatures it seems only right to dive in to some of my all time favorite apple recipes.  I particularly like this one because it is delicious with several apple varieties including:  Jonathan, Jonagold and Golden Delicious.  The news gets better – starting Saturday Jonagold apples will be available for picking at our Belleville Farm  – never have we opened Jonagold to the public for pick-your-own (at least not that I can remember!)  I hope you enjoy the first taste of fall, too!
Baked Eckert's Apples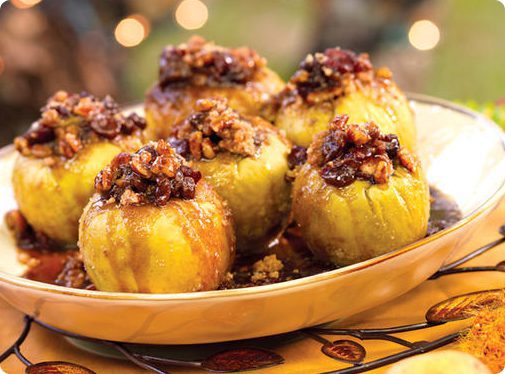 Ingredients: 4 large baking apples (Jonathan, Jonagold or Golden Delicious) 1/4 cup sugar 1/4 cup chopped pecans 1/4 cup chopped raisins 1 tsp. ground cinnamon 1 Tbs. butter 3/4 cup boiling water
Directions: Preheat oven to 375 degrees F.  Remove apple cores to within 1/2-inch of the bottom of each apple using apple corer, making the holes about 3/4-inch wide.  Combine sugar, nuts, raisins and cinnamon.  Place apples, top-sides up, in 8-inch square baking dish.  Spoon nut mixture evenly into apples.  Top each with dot of butter.  Carefully pour boiling water into bottom of dish.  Bake 30 to 40 minutes or until apples are tender but not mushy.  Baste apples with liquid in dish just before serving.