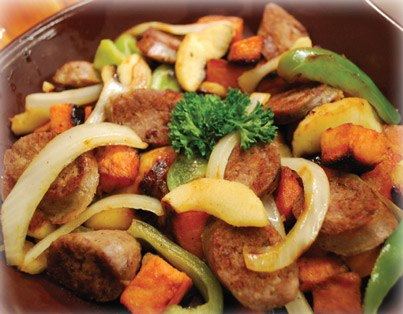 Our Applewurst Sweet Potato Skillet recipe is a cinch to make and great especially for busy evenings. All you need is one skillet and about 45 minutes, and snap, you have a hearty meal loaded with veggies, fruit and applewurst. If you are not familiar with applewurst, Eckert's makes its own, blending pork sausage and applesauce. The applesauce adds sweetness to the sausage. Whether you have never tried applewurst or you are a big fan, put it on your shopping list and stop by Eckert's meat department. And while you are here, be sure to grab some homegrown sweet potatoes and the other ingredients to complete this meal.
Applewurst Sweet Potato  Skillet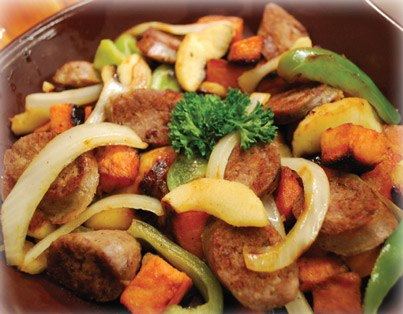 1 lb applewurst (4 links)
2 large sweet potatoes, peeled and cubed 2 Fuji apples, peeled and sliced 1 medium onion, sliced 1 green pepper, sliced 2 Tbsp. olive oil
Cook applewurst in skillet over medium heat until cooked through—about 15

 

minutes, turning once after 7 minutes. Remove from skillet. Add oil and green pepper. Sauté for 5 minutes, add onion and continue cooking until onions and peppers are soft. Remove from skillet. Add sweet potatoes and apples. Turn 1 or 2 times. Cover with lid and cook for 10 minutes on low heat. Slice applewurst and add to skillet. Then add pepper and onions and toss all together. Warm through and serve.