I am so happy to announce that pumpkins are ready for picking.  What better way to celebrate than with something special from the Eckert Family Fall Cookbook.  As I scoured the cookbook looking for just the right thing to make, I happened upon Angie Eckert's Favorite Fall Pumpkin Bread.  She has made this many times for us and I never get tired of it.  I hope you enjoy it, too!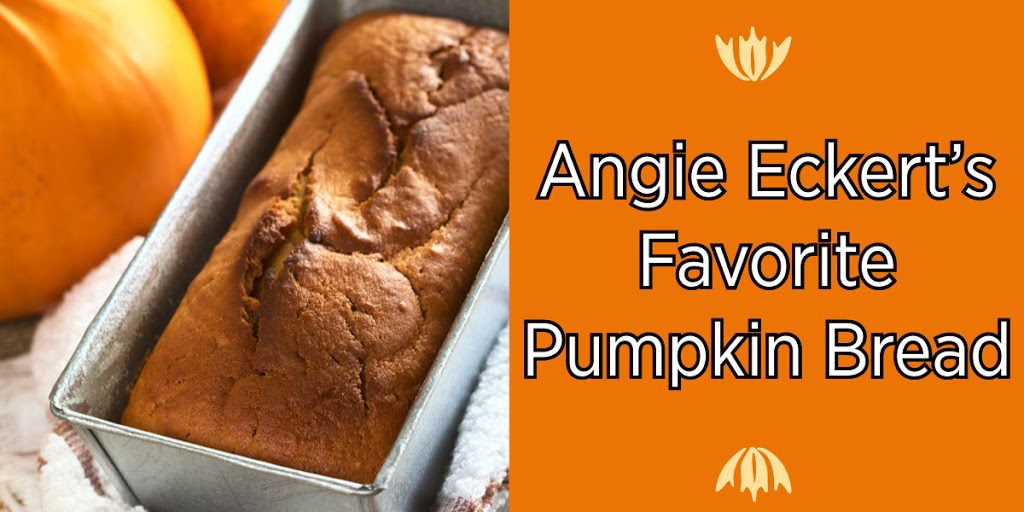 Ingredients:2 eggs1 1/2 cups sugar1 cup cooked fresh or canned pumpkin1/2 cup oil1 2/3 cups flour1 tsp. baking soda3/4 tsp. salt1/2 tsp. ground nutmeg1/2 tsp. ground cinnamon1/2 tsp. cloves1/2 tsp. ginger1/4 tsp. baking powder
Directions:Preheat oven to 350 degrees F. Beat eggs, sugar, pumpkin, and oil with wire whisk in large bowl.  Mix flour, baking soda, salt, nutmeg, cinnamon, cloves, ginger, and baking powder; stir into pumpkin mixture.  Pour evenly into 2 greased 8×5-inch loaf pans.  Bake 1 hour or until wooden toothpick inserted in center comes out clean.