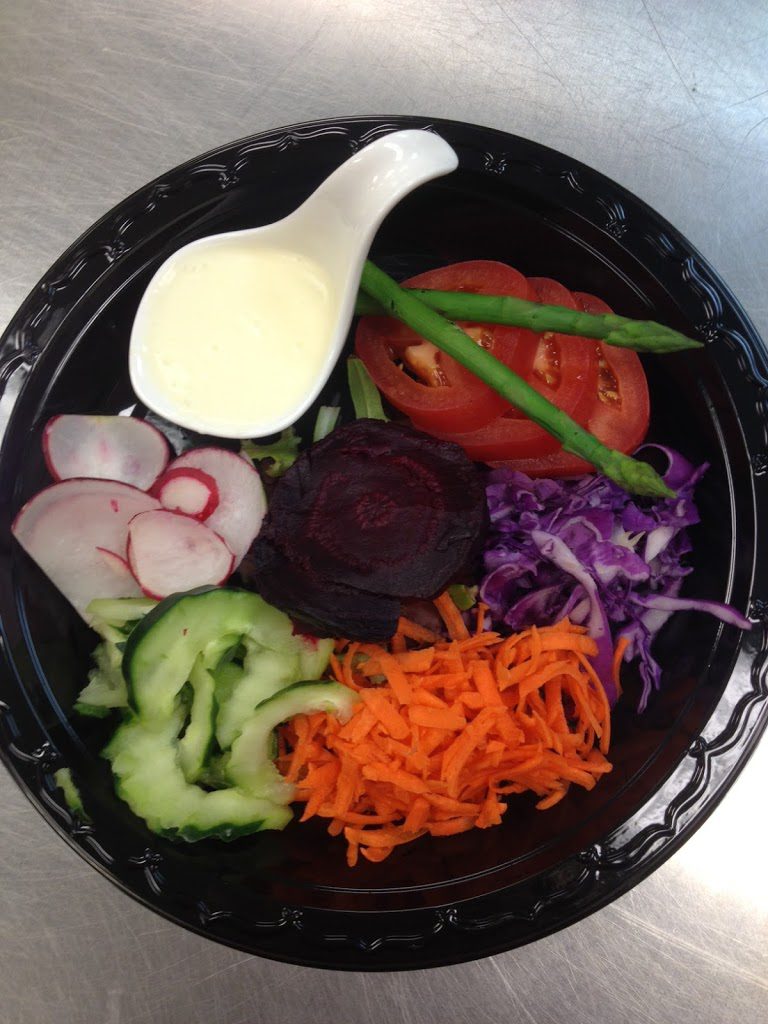 Last month, we hosted the third annual "Wine and Food of the World" event in our cooking classroom. Every year at this event, we feature five delicious courses and wine pairings from around the world. This year, our first course was influenced by Germany and we paired it with an Austria's most significant wine varietal called Grüner Veltliner. And instead of making a traditional salad, we offered our guests something a little different.
The first course—a "deconstructed" salad—allowed our guests to enjoy fresh vegetables how ever they so chose. Instead of mixing all the salad ingredients together as is traditionally done, we served them on a plate as individual items. Some people really enjoy being able to savor each vegetable on its own, while others prefer blending the vegetables. The "deconstructed" salad let our guests decide how they wanted to eat their salad—in parts, mixed together, or in both ways. When the plates returned to the kitchen, we knew it was a hit because every plate was clean!
This salad puts a fun spin on a traditional first course. As you can see in the photo, we served a variety of fresh vegetables including tomatoes, steamed asparagus, cabbage, shredded carrots, cucumbers, radishes and oven-roasted beets. The German style dressing makes the fresh vegetables really sing. Try this at home using any variety of vegetables you have on hand!
If you really enjoy salads, be sure to attend our Lunch & Learn class on March 20, 2013, where will be "constructing" New York Chop Salads. This event takes place from 12 to 1 p.m. in our Country Store in Belleville. For more information, call (618) 233-0513, ext. 1941.
"Deconstructed" Salad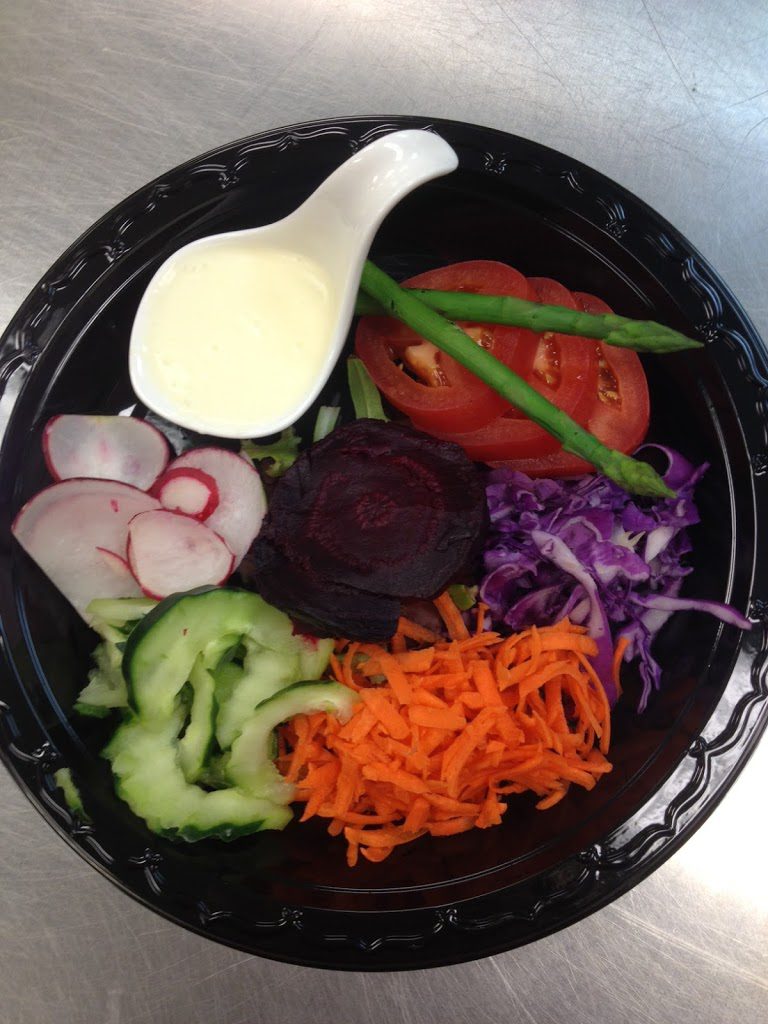 Dressing Recipe
8 oz sour cream or crème fraîche
2 lemons, juiced (2-3 Tbs)
Whisk ingredients together in a medium bowl. Transfer dressing into small bowls to serve alongside each salad.
Oven Roasted Beets
Preheat oven to 400 degrees.Wash beets but do not peel. Trim off the beet tops to about 1-inch from the beet. Leave the root on the beet. Place beets in a shallow roasting pan or on a rimmed baking sheet. Roast until skewer or the tip of a paring knife comes out easily, about 45 to 60 minutes. If the beets are large, may need to roast longer. Smaller sized beets take less time. When beets are done and cool enough to handle, slice off the top stem and the bottom root. Peel the skin off using a knife. Skin will slip off easily. Slice into ¼-inch thick pieces. Gently toss warm beets with olive oil and season with salt and pepper to taste. Serve warm or at room temperature.