Hooray for HoneyCrisp!!! I am tickled pink about this year's crop. The HoneyCrisp apples taste better than ever. Honeycrisp apples boast sweet and tangy flavors with a killer crunch just in time for school lunches and after-school snacking.
Does back-to-school time hit anyone else like a freight train? Last week was a topsy-turvy week of getting back into routines at our house. I had to rewire my brain for fall snacks and lunch ideas. Luckily, my kids love Honeycrisp as much as I do!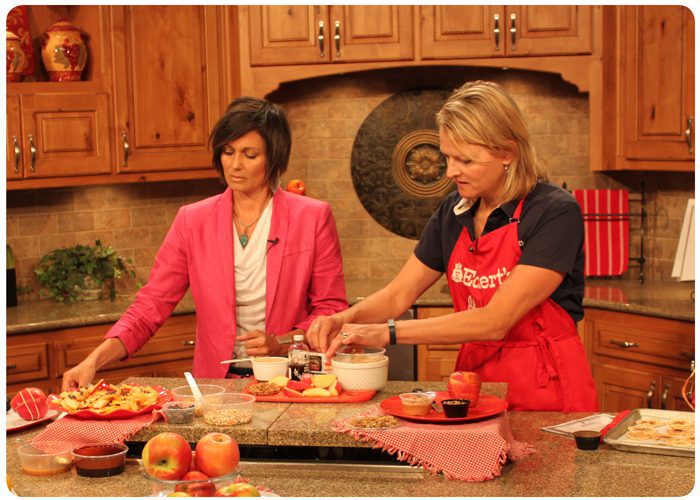 Today, I had the pleasure of featuring 5 fun apple snack ideas in the Show Me St. Louis kitchen. (Thank you Heidi Glaus for making it so fun to be in the kitchen with you.) Give these tasty apple snacks a spin with your favorite apple variety.
Eat well this apple season, Angie
5 Fun Ways to Enjoy Fresh Picked Apples from Eckert's- as Demonstrated on KSDK's Show Me St. Louis
Make dried apple slices to preserve apples for snacking. This is a great recipe if you have picked more than you can eat in a few weeks!
Slice and core an apple, then rubber band it to keep it together in a lunch box!
Our recipe for Fun Apple Dip is easy to make. Pack a little in a cup for lunches to eat with fresh apple slices.
Get creative with your own version of Apple Nachos – slice apples on a plate, top with caramel or chocolate sauce and sprinkle some toppings like mini chocolate chips, nuts and sprinkles.
Apple Stackers – core and slice an apple. Spread it with peanut butter, honey (optional), nuts or granola and stack the slices.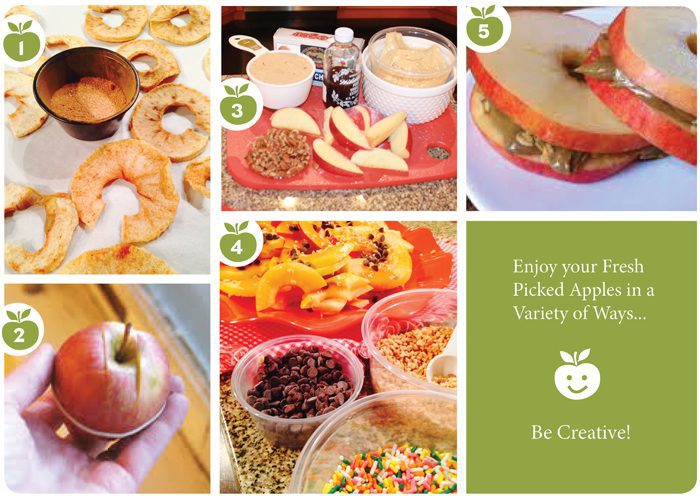 Honeycrisp picking starts this weekend on all 3 of the Eckert Farms and we hope to have them through the first weekend in September. Come get them while they last!!! See us online for picking details and availability by farm before you visit.