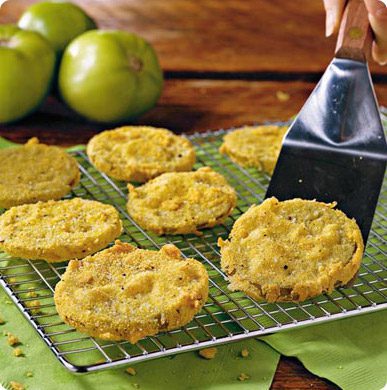 I am so excited to announce that Eckert's homegrown vine-ripened tomatoes are now in the Belleville Country Store and St. Louis Farm Market!  My family absolutely loves to make and eat fried green tomatoes.  This recipe adds a sassy zing and has been passed down through the generations.  I defiantly recommend stopping by to pick up some of our delicious and fresh tomatoes and try this recipe out – your family is sure to love it!
Sassy Fried Green Tomatoes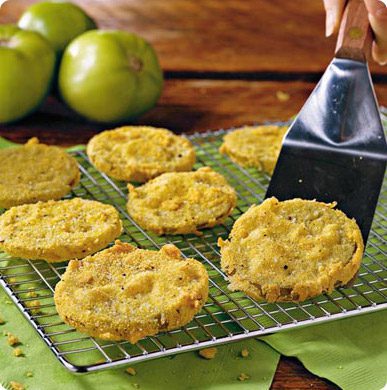 Ingredients
1 cup self-rising yellow cornmeal 1/2 cup all-purpose flour 1 teaspoon salt 1/2 teaspoon ground black pepper 1/2 teaspoon Creole seasoning 1 cup whole buttermilk 4 large firm green tomatoes, cut into 1/2-inch slices Vegetable or peanut oil for frying
Directions In a shallow dish, combine cornmeal, flour, salt, pepper, and Creole seasoning.  In a separate bowl, place buttermilk.  Dip tomato slices in buttermilk; dredge in cornmeal mixture, shaking off excess.  In a large skillet, pour oil to a depth of 1/2 inch; heat to 375F.  Fry tomato slices, in batches, 4-5 minutes per side or until golden brown.  Drain on wire rack over paper towels.  Make6 6 servings.