The Restaurant's kitchen might be in complete disarray and the air frigid, but Eckert's still has a lot going on this week. But first, a word from Angie Eckert on the 2010 Gift Show:
"I just returned from four solid days of shopping for new products and trends to share with our customers in the Country Store and Garden Center. In downtown Atlanta, three high rise towers offer inspirations aplenty!
I had a ball, as always, because shopping is one of my favorite things to do! While perusing the gourmet food floor at the show, I even had the opportunity to meet Food Network star Tyler Florence! His recipes and stories entertained me and the rest of the standing-room only crowd. The most thrilling part was hearing about the new food trend in 2010… fresh vegetables. According to Tyler, cooking with fresh, local products is what chefs are touting for 2010! For growers like us, this is music to the ears!!!
As far as other fun trends: lots of handy kitchen gadgets, garden decor decked out in shiny rocks and glass, monogram cutting boards, wine toppers, totes and plaques with family sentiments.
After 12 hour days of shopping, you would think I would be tired of searching for new products. Much to my husband's dismay, it has the reverse effect! I can't wait to see all the new things we've ordered and I will surely never tire of shopping for great things to share with our customers!!!" -Angie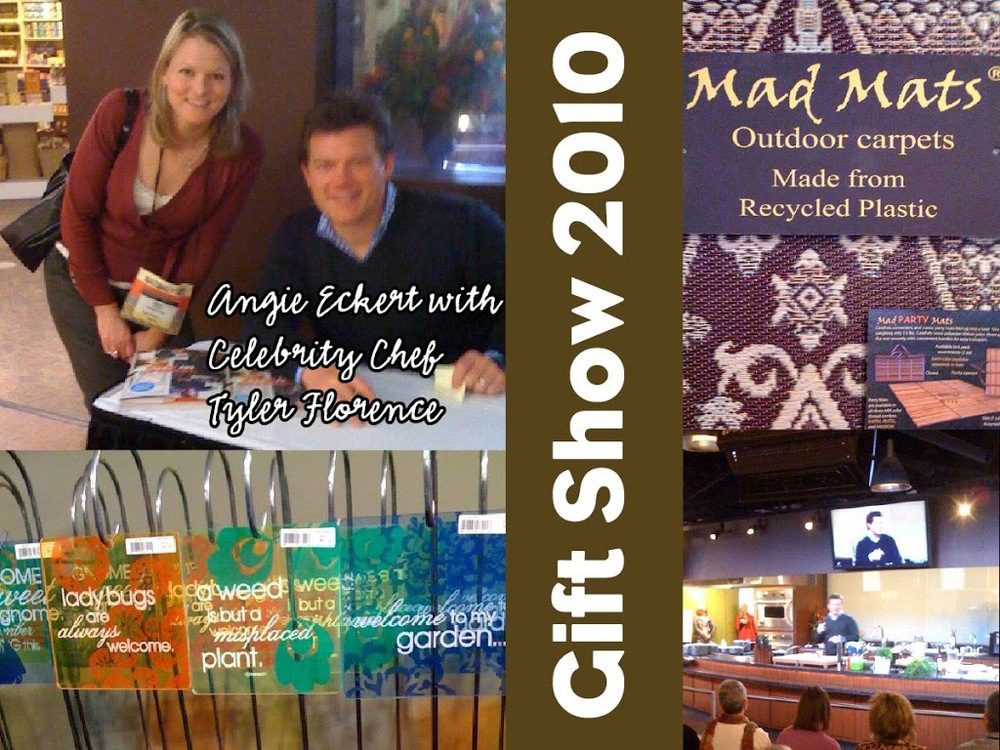 January 10th – January 23rd – Muffin Mania
Muffin Mania is back now through January 23, 2010. Stop by Eckert's Bakery and enjoy a wide variety of monster muffins to choose from, and get 5 muffins for $5.55. Stop by on the way to work and pick up some for the office. Don't worry about being late, all will be forgiven when you boss gets a taste of these!
January 11th – Military Mondays
Stop by Eckert's on Mondays and anyone with a military ID will receive 10% off their entire purchase. Our sincerest gratitude to our service members and their families. We are forever indebted to you for your sacrifices.
January 12th and January 13th – Mommy & Me Cooking Classes
Bring your little ones this Tuesday and Wednesday to a fun and interactive cooking class. Heidi Glaus from
KSDK Channel 5
brought her mom this morning and had a blast. Classes take place from 9:30-10:30 am in the Country Store and cost $8/child. Spaces are limited and reservations are required. Please call (618) 233-0513 to reserve your spot!
January 14th – 50% OFF All Candles
January 15th – Buy 4 of Eckert's Applewurst Links, Get Two Links FREE!